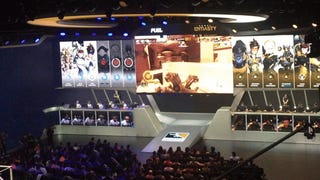 The Blizzard Arena phase has a large light-up halo on the ceiling that serves as a development bar for Overwatch targets. As a crew captures a issue, the halo fills up with that team's colors. It is an remarkable illustration of who's successful. And it is all manual. Or so I've been instructed.
The other aspects on the Blizzard Arena phase update quickly, these as the large screens above each and every crew that clearly show which in-recreation people have died, as well as which people have their Greatest attacks charged. Just like those people screens, the halo allows clearly show the viewers who's successful, but as opposed to the rest of the phase, the halo demands a person quite vital human to spend close awareness to what is likely on through each and every Overwatch match.
I identified out about the all-vital halo operator thanks to being in the erroneous spot at the ideal time.
When I arrived at the Blizzard Arena on Overwatch League opening day, I picked up my media bracelet and obtained escorted into the location by an celebration staffer. That staffer later on instructed me that she and many of her colleagues had been brought on last-minute to account for the massive influx of reporters covering the celebration. That could explain why she took me to a very small push lounge in a hallway following to the Blizzard Arena skybox seating, as opposed to a a lot greater media lounge downstairs, the place the rest of my colleagues ended up.
When I observed Overwatch League commissioner Nate Nanzer walking into the skybox together with other folks I didn't realize, I thought to myself, "Am I in the ideal spot?" But my home had a indication on it that said "press function place of work." Possibly, at potential Overwatch League matches, that tiny home will be the place the reporters stop up. Through OWL Opening Working day, although, each and every other particular person all around me had a badge that said "Backstage Go." I didn't.
I didn't see anybody else with a dazzling orange media bracelet like I had, both. I questioned 3 Blizzard Arena staffers the place the rest of the reporters had long gone, and none of them appeared to recognize my query.
I hung out by the skybox, seeing Nate Nanzer and his buddies enjoy Overwatch, and quickly a dozen folks collected nearby. A tour guidebook had just started a backstage tour of the arena. I edged to the again of the tour and tried using to seem nondescript.
The tour guidebook instructed us all a story—the tale of the halo. He spelled out that many folks who've seen the halo in motion have praised its use of Blizzard's API, or application programming interface. In other words, viewers believe that that the halo's lights answer according to cues despatched by Overwatch in true time. But, the tour guidebook laughed, it doesn't do that at all. It is operated by a member of the Blizzard Arena output crew. Thanks to the typical assumption about who seriously does his position, that worker has earned the nickname "API."
So, certainly, Blizzard's API does make the halo light up. As in, a guy nicknamed API basically cranks up the halo lights according to what is going on in the recreation, stay, as it comes about.
The tour guidebook and his team walked out of the skybox spot. I understood from conversing to the location staffers that if I still left this spot, I wouldn't be able to get again in with out an escort. Nate Nanzer's skybox seemed crowded, anyway, and I preferred to talk to all around to see if anybody else understood about the halo's mysterious operator. Was it just a enjoyment anecdote instructed by a tour guidebook to entertain buyers and high-rolling attendees? Or was it correct?
I still left the skybox driving, under no circumstances to return, since no other escort preferred to let me again in there (and certainly, I did talk to). I went into the arena to enjoy the halo in motion, and I also questioned 3 Blizzard staff members about the halo operator. The 1st two staff members instructed me they didn't imagine the halo operator could be true, and that the halo had to be automated. The 3rd worker thought so, also, but he understood who to talk to: the head of output backstage.
At 3 a.m. that night, long soon after Overwatch's prosperous opening day had wrapped up with Seoul Dynasty and Dallas Fuel's thrilling match-up, I obtained a textual content message from that enterprising Blizzard worker: "Can verify it is operate by someone on our output crew, affectionately nicknamed API." Who has the honor of undertaking this position? "Let's maintain it nameless."
The Blizzard Arena team could be pulling my leg. But I'm pretty guaranteed it is true. The similar Blizzard worker even appeared a little wary, asking "how this would be used," and telling me he thought the tale would be greater as a tweet than an posting. Moreover, none of the other Blizzard staff members I spoke to had read of the halo operator, suggesting that the position actually is secret, even internally.
Or possibly that is all section of the little bit. Perhaps I only observed what Blizzard preferred me to see, soon after all. Perhaps Nate Nanzer is reading this posting ideal now, laughing at my naiveté. They constantly set a person rube in the skybox at OWL matches, each and every time. It is all for clearly show.
I choose to believe that in API. Just like Quasimodo at Notre-Dame, or Dunkin Donuts' Fred the Baker ("Time to light the halo!"), this mysterious but all-vital particular person single-handedly guarantees that the Blizzard Arena's massive glowing ring illuminates with just the ideal crew colors at just the ideal time. Possibly, sometime, that position will get automated soon after all. But until finally then, it is a person far more magical element of seeing Overwatch stay in the arena. You get to seem up and see the function of the unsung API.